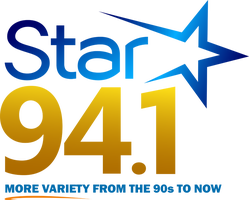 San Diego's BEST Variety
Star 94.1 is San Diego's Hot AC Radio Station! Star has always been one of "the" premiere San Diego radio stations. Today's popular music coupled with San Diego's most recognized personalities and events has made Star a dominant market leader. In fact, approximately 1 out of every 4 San Diegans listens to Star each week!
Spearheaded by San Diego's top HOT AC programs including Mornings with Jesse Lozano and Delana, On Air with Ryan Seacrest, Afternoons with Shelley, Your Drive Home with Haze, and evenings On Air with Mario Lopez. Star 94.1 delivers top pop music including core artists such as Maroon 5, Kelly Clarkson, Taylor Swift and Sam Smith.
Call Letters: KMYI
Format: ACHOTMODERN
Dial Position : 94.1 FM
Brand: Star 94.1
Target Listener: Adults 25-54